Bonjour tout le monde from Menthon St Bernard.
We are finding it difficult to believe that we are two months into our French adventure! We are tres contente and may not come home! Just joking!
We have been lucky enough to check out the Giro D'Italia. The kids were just desperate to see it!!!! While bike riding/racing is not really my thing…. we do these things for our kids!!! So off we went to Italy (via Mont Blanc), to watch the second biggest bike race in the world.
We watched an exciting stage which involved a circuit in and around Turin (Torino) and an exciting finish with an Englishman on the Aussie team Bike Exchange taking the win. An Aussie (Hindley) and an Italian hometown favourite were also in the mix till the very end. This meant a very exciting atmosphere at the finish line.
Tom and I have been enjoying watching the Giro live and at a slightly more convenient time than when we try to watch it in Aus.
It was made even more special by the fact that a young Aussie won the race overall. This was the very first time an Aussie has won this bike race and we were wrapped to watch much of it live and enjoy two stages in Italy.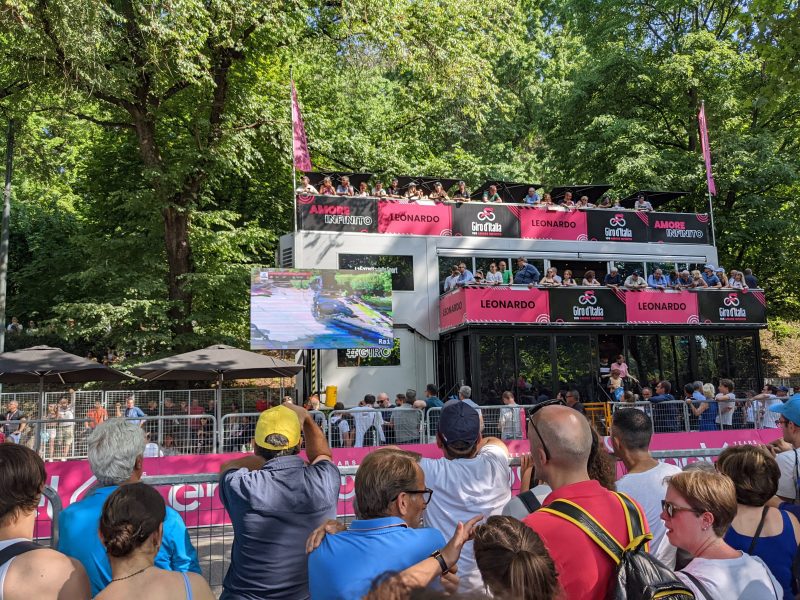 The finish line of the Giro
We have otherwise remained in and around Menthon/Annecy where the weather is warming up, the days are getting longer, and we continue to explore on foot and our newly acquired town bikes. Now we are looking towards the next grand tour, the big one, the Tour de France will start at the end of this week. With a bit of negotiation with the kids, we do hope to see a stage of this also.
We visited the Menthon chateau which was amazing. It was built in the 10th century and home to the Menthon family still now.
The story of St Bernard de Menthon is an interesting one. He was promised by his father to marry a rich heiress but instead he chose to run away to become a priest. His father knew of his desire to become a priest so locked him in his bedroom and Bernard had to climb out of a window (not ground level) to escape the day prior to the wedding!
Desperate times call for desperate measures, and I wonder if with the level of closeness our family is currently enjoying, Tom may try to do the same! 
We four are not yet taking for granted the amazing chateau that shadows our little home and the town of Menthon St Bernard, and enjoy glancing up each time we walk home from the village centre.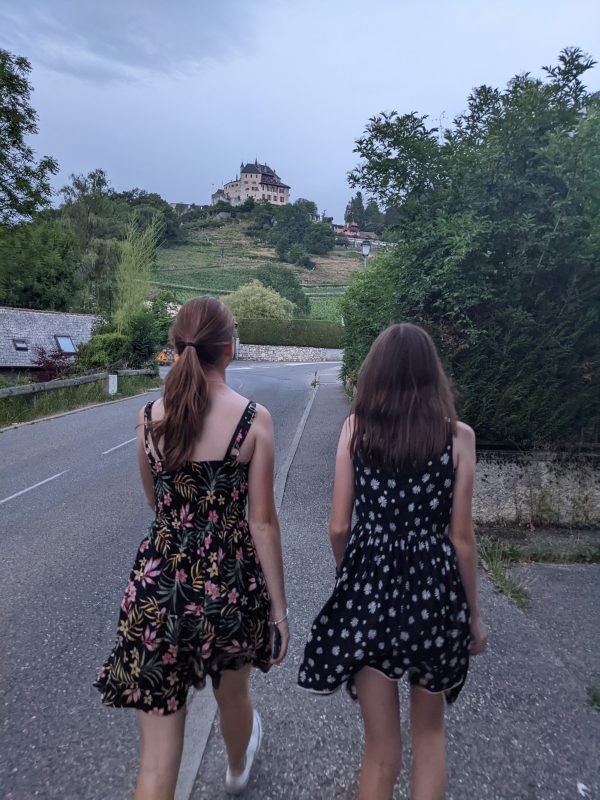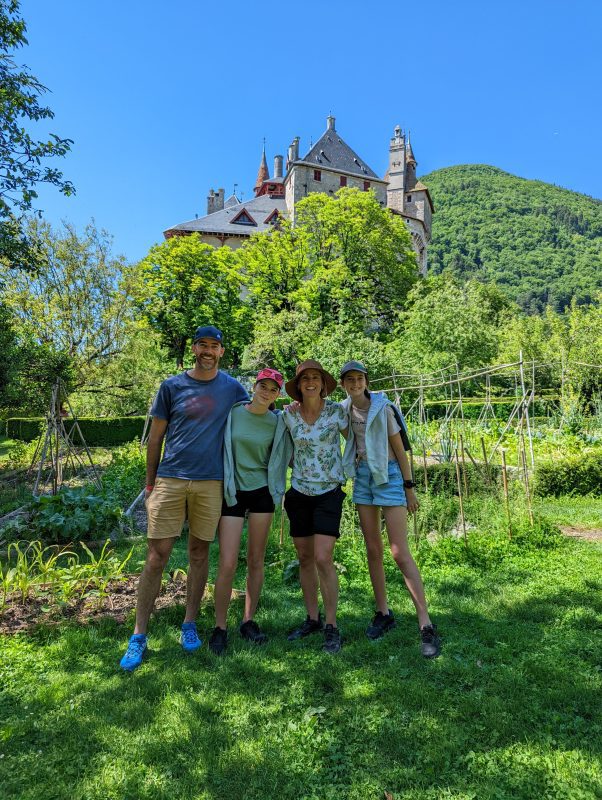 Le Chateau Menthon
We have commenced some family French lessons. It seems Lucy who has been experiencing the most complete French immersion (very few of her schoolmates can speak English), is leading the way as the fastest learner. She is now our number one interpreter and who we defer to when asked any question in French.
I continue to try my French up front and when I receive a polite but confused look, defer quickly to English! The french are as patient as I am determined, so I am sure things can only improve. I do find I am a little better at speaking the language after a glass of the local vin!
Around Annecy in the past few weeks they have had a massive trail running festival (Maxi Trail Festival) and also an Alpine Tri, The Alpsman.
While triathlons are usually flatter races, this utilised the local hills and saw the elite competitors climbing the Semnoz Mountain not once, but twice on both bike and foot. A total of about 5000+ metres of climbing in an ironman distance tri!
A womens only race with about 200 competitors was great to see and probably the highlight for me. Not sure my girls were so inspired that I dragged them out of bed on a Saturday morning to watch, but perhaps that will come with time.
Being summer and a great area for activity, there appears to be a sporting festival on every weekend.
We continue to enjoy biking and have done a few hikes in the mountains with some friends we have made here.
Most recently, we walked the Tournette which is the highest mountain around here. To get to the summit you must negotiate ladders and use chains to assist climbing up and around a sheer rockface. The peak of this mountain is 2300m.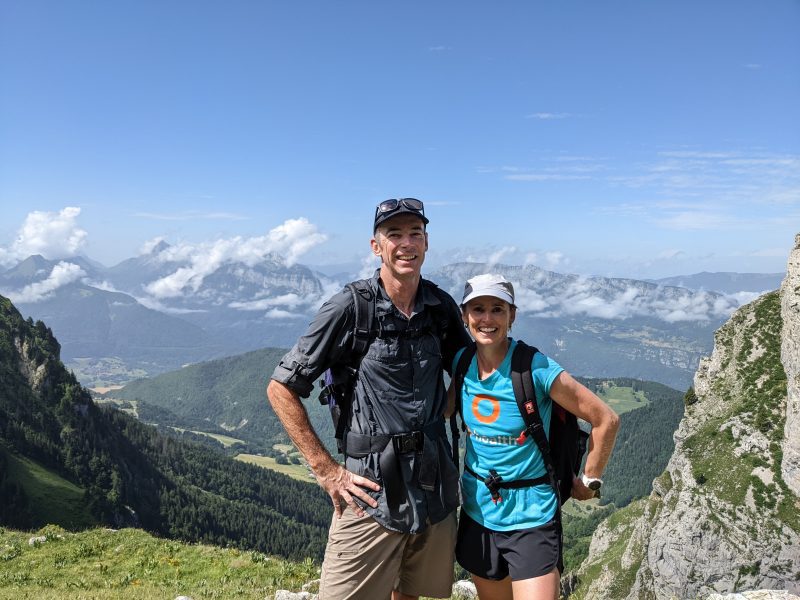 This picture is just shy of the top of the Tournette climb.
Clouds prevented us from seeing the view at the very top so we may just have to attempt this one again!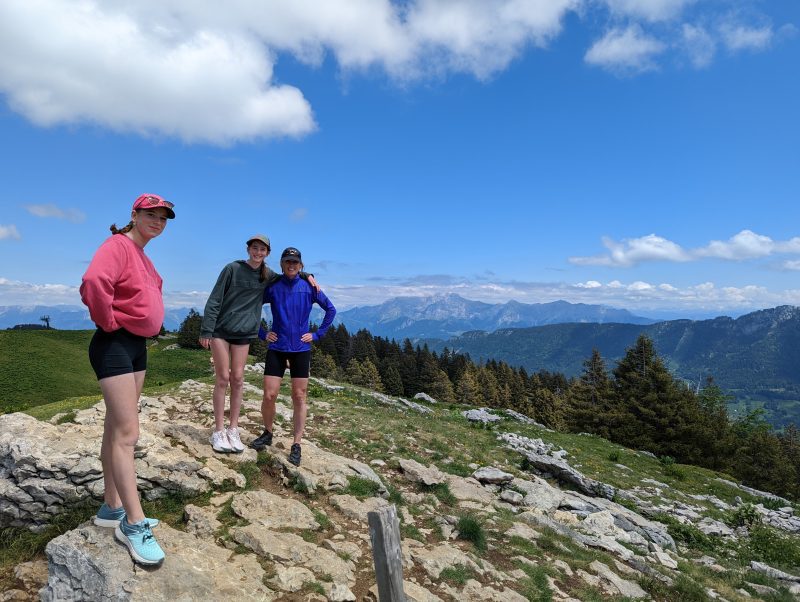 Hiking around Mt Semnoz.
While on this visit we drove to the top and walked, last week Tom and I enjoyed the ride up together.
Distance 16km, average gradient >7%.
We are looking forward to school finishing and summer break commencing for the girls this week.
We are yet to make specific plans as we are very happy staying around Annecy, allowing the girls to relax a bit after a pretty intense term of school and enjoying the local Plage.
Who knows, I may even have a swim!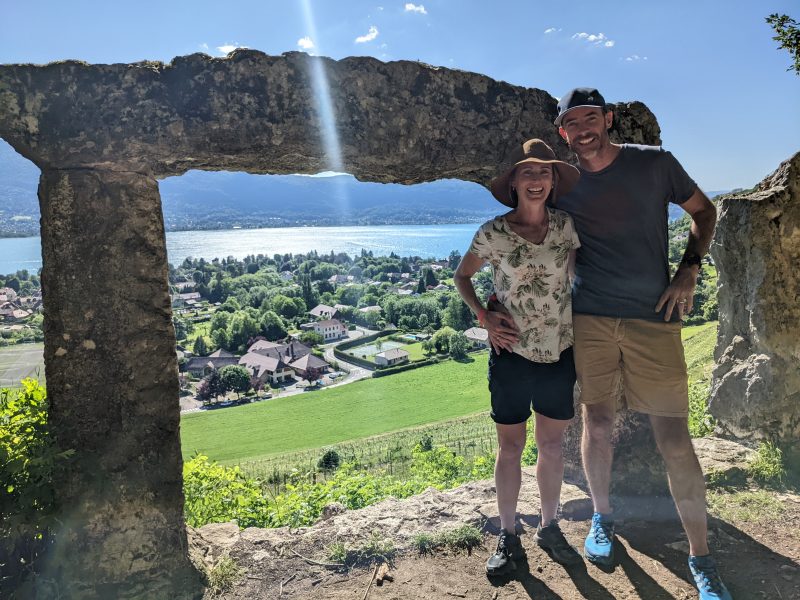 The view is of the lake and our little village of Menthon St Bernard.
Until next time, au revoir.
– Lisa Barry