May 7th 2023, Port Macquarie:
I'm standing at the start line looking out over the Hastings river with a thousand other athletes, zipped up into our wetsuits. The sun has been up for about 25 minutes but I've been awake for 3 hours in a bid to settle the nerves and the contents of my stomach before I run into the water and start what I've been working towards for 7 months – an Ironman triathlon. Specifically Ironman Australia – an annual triathlon in Port Macquarie which consists of a 3.8km swim, a 180km bike ride and a 42.2km run.
The thought of an Ironman has drifted in and out of my head for a couple of years. I've done ahalf Ironman and a few olympic distance triathlons in the last few years; but never committed to the full Iron distance.
However in late September I was talked into thinking about it by my dear friend and O-health colleague Jasmine. Jas and her husband Josh were planning on doing the Full and Half respectively at Port Macquarie and wanted to know if I'd train with them along the way. But after going on a particularly fun training ride with them in October (and with the help of a couple of beers over dinner!) I signed up – slightly scared, but mostly excited about what lay ahead in order for me to achieve my goal of becoming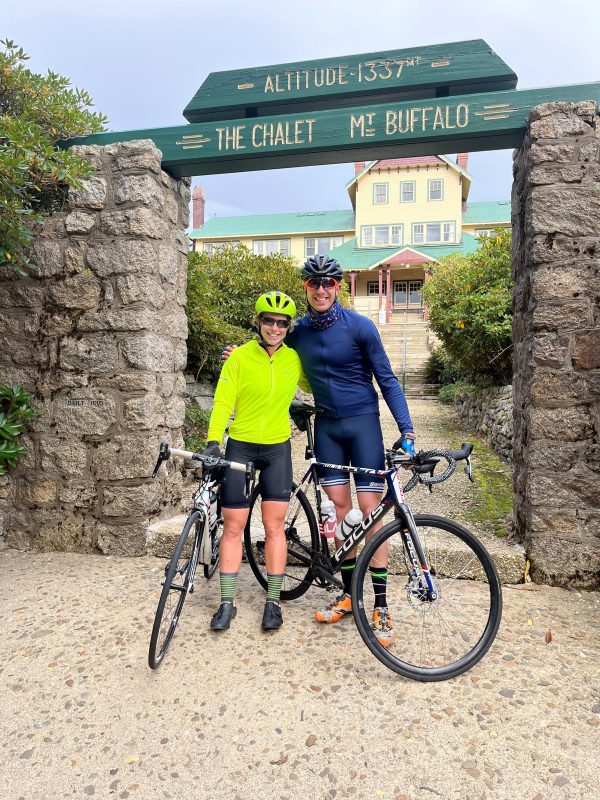 an Ironman.
My first week of training was in Mid October – I started with doing 2 weeks of low volume and low intensity training. I went for a 3km run on a Tuesday morning and thought to myself "I've got just 39.2km more to add to that." That evening at water polo training I cramped severely in the calf muscles (much to my teammates' delight!) and I began to realise that this wasn't going to be easy! 7 months – at the time I felt I was going to need every second of it! My training was divided into monthly blocks; split into 3 weeks of higher volume and 1 week of recovery. I generally did 12-18 hours of training per week, consisting of 250-350 km of cycling, 25-40 km of running and 6-10 km of swimming. I also played water polo through summer, which was fantastic for my swimming fitness.
For recovery I tried to focus on lots of sleep and eating. I also utelised my O-mates for treatment when I could and used a foam roller and massage gun to work on niggles as they popped up in training. I found my balance between training and recovery and began to chip away, gaining more and more confidence as the months passed.
Training was going amazing for me until one Wednesday evening in February; where on my weekly run with my O-mates through Nail Can, I rolled my ankle and did some decent damage to multiple ligaments. This required being immobilised in a moon boot immediately and 3 weeks off running. I was frustrated and anxious (plus a bit of a cranky pants!), but I tried to not see this as a setback – I took it as a chance to spend some time strengthening and rehabbing the ankle, as well as a chance to improve my cycling. I also dry needled my own foot, leg and ankle most nights after work and training – perks of being an Osteo!
My dedication to rehab paid off and by the start of March I was back running at full capacity and on target for my original goal of a 11 hrs 30 mins finishing time.
March and April flew past, and after completing a huge week of training, culminating in a 35km run in the pouring rain over the Easter long weekend, I was mentally and physically ready for race day! I stayed fit, healthy and injury free and before I knew it, race day was upon me. 7 months of 4:30-5am wake ups, thousands of kilometers and over 200 hours of training had all come to a crescendo. The night before is the time for a carb load and an early night; despite my nerves I get more sleep than I thought I would…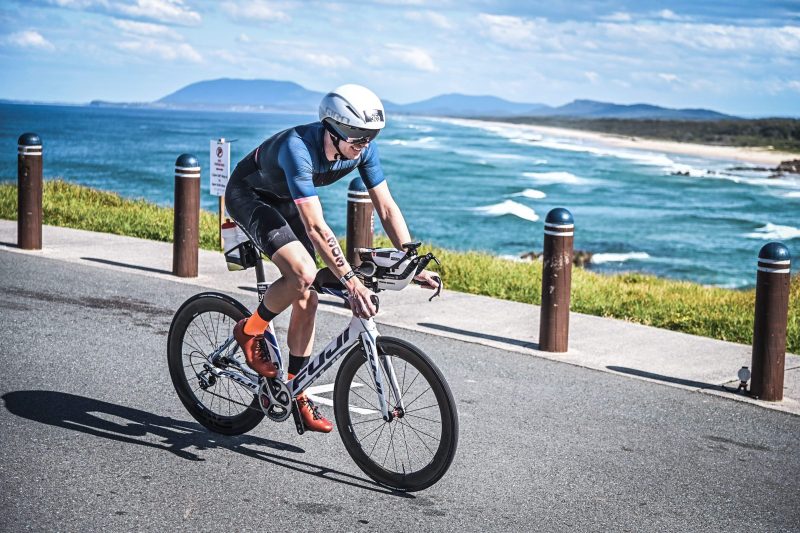 The pre-race silence is broken violently by an air horn and I run down into the water, plunging into the salty Hastings river to start the swim. The first leg of a triathlon is also my strongest; it goes well without a problem and I manage to emerge from the water in 1st place in my category and 9th overall. I roll through transition, smash down a gel and a gatorade, then settle in on the bike.
Mentally riding 180km can be daunting, but I broke the bike leg into 5 segments to make it easier to consume. I tap away in my rhythm and tick the kilometers off steadily (and to my surprise quickly!). I used the aid stations well and ate and drank regularly according to my nutrition plan.
The support is incredible out on course; I ride past my parents, aunty and friends and feel lifted hearing them cheer. The hardest climb on the course (Matthew Flinders Drive) is like a gauntlet of noise and when I get to the top I take my hands off the handlebars and play to the hype from the crowd (nothing wrong with riding with a bit of panache?!). I'm loving every second of it and drink it all in! Before I know it the bike is done in 5 hours and 25 minutes – 35 minutes quicker than I anticipated!
Now for a marathon!
Again, I broke the run course down into 4 laps to make the final leg of the race easier to swallow. I've never tried to do a marathon, but I throw myself into it – no point stopping now! I'm not a natural runner and having a huge crowd of support around the course is a great distraction. At aid stations I top up my energy stores with more gels and every endurance athlete's secret weapon – coca cola! In what feels like no time at all I'm on my last lap. My pace has starte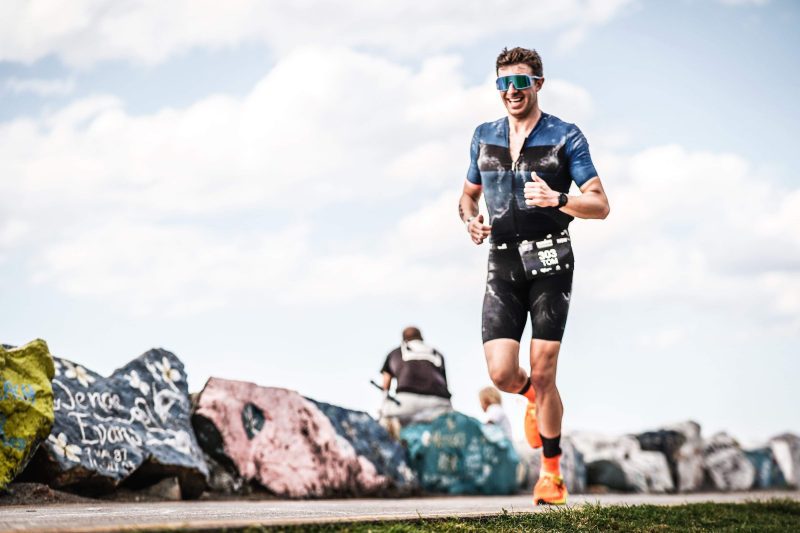 d to waver – particularly on the exposed part of the course where the wind is a nightmare; but despite that I'm still enjoying every second of it. I make my way past transition one last time, through the last aid station without breaking stride and turn down the finishing chute.
The famous black and red IM carpet is packed with spectators! There is music pumping so for an athletic event it feels like one hell of a party! I spot my Mum halfway along on the barriers and stop to give her a hug. I've got goosebumps now, partly from the bloody cold wind, but mostly from hearing those fabled words: "Hey Tom – YOU are an IROMAN!"
What a day – I thought I'd be finishing in 11 and a half hours, and to my delight I crossed the line in 10:55:49. The whole experience was overwhelmingly positive for me; not just race day but the whole 7 month lead up. I had amazing support throughout; be it the best training partner and fellow O-health superstar Ironman Jas, right through to all my patients, closest friends and family. The race went so fast and I had a great day – I have a finishing time that I'm extremely proud of.
I've been asked plenty of times if I'll do another one – maybe. To be honest the whole process was so fulfilling and satisfying in a way I never anticipated it to be, so if I only do it once I'm okay with it. But I'm also a sucker for pain and competition – in my opinion nothing beats pinning a number on and throwing yourself into a race. I'll probably change my mind 100 times and still not have a definite answer. For now, I'm going to recover, get back in the gym to strengthen my fatigued body and reset until the next opportunity presents itself.
Tom Duck