New kit day is awesome. Nothing beats pulling on a crisp new jersey, skinsuit or pair of bibs. It puts a buzz in the air and it makes you feel like you can destroy the bunch and look great doing it.
When I put my hand up (unopposed- 'why was that' I wondered) to design a kit with our own big orange O on it, I must admit that I had no idea that I was shouldering such a big responsibility!
O-health has a heritage of combining great visibility with great styling- some of their kits over the years have become iconic locally. As with all products we recommend at O-health, if we wouldn't wear it then we won't sell it. As such, we have elected to have our kit supplied by Santini. A brand renowned for style and a high quality product; both of these values are synonymous with O-health.
The process started with Sheila looking to get a Triathlon suit designed for the O-health sponsored Olympic Distance Triathlon held at Allan's Flat in late March. Whilst a design was settled upon fairly quickly, the logistics behind organising sample sizes, ordering numbers, having multiple people commit 100% to wearing the product when it arrived were things I had never considered. The ambitious end date was abandoned and the baton was passed to me with a new task: design the next custom kit and have it ready for the 2021/2022 cycling season!
The best thing about our orange O is that it is immediately recognisable. Visibility (and ultimately safety) is a core design parameter, and orange is visible on the road in almost every condition. It must also be comfortable- coming from Santini we knew it would be made with incredibly high quality lycra, chamois and the cut would be spot on. Our design was going to be classy but different; modern, yet timeless; bright orange but still something you wanted to wear. We wanted to nod toward our former branding but still have something emerge as distinctly O-health. This cycling kit was going to tick every box!
So I began- picking up from where Sheila left off with our Santini rep, Nick. Visibility, branding, stripes, patterns and old kit designs were put forward in a handful of emails. Nick was extremely helpful in getting our mock designs of jerseys and bibs done in under a week and the first sample designs with the big orange O were emailed through…
… And nobody was sure if they liked any of them…
Which left me to email Nick again with more modifications…
… To which the response was…
Underwhelming…
Repeat. Repeat. Repeat.
It seems that the worst thing about our colour orange is that it is hard to find a design that incorporates it without causing offence! I was really concerned that I had reached my lifetime limit of describing what shade and pattern of orange I wanted to try in only a couple of weeks.
"I'm missing something" I muttered over and over to myself. "It's just not grabbing me". I was desperate for feedback, do we get rid of the stripes? Is the branding too obnoxious? I know I'm bad at artistic things but I didn't realise how bad I was until I saw one of my own designs wipe the smile off all of my colleagues' faces!
The deeper we got into the process, the worse it seemed to get- logistical questions popped up that I never considered. It was starting to dawn on me as to why I was unopposed in raising my hand for the responsibility!
Then suddenly, it seemed to click! A mix of white and orange in a pattern underneath the big O worked! Eureka!! It was visible. It was stylish. It was an excellent representation of our brand. Great!
Seeing the final design in front of me was like holding a newborn for the first time (I assume???).
The design is done, now for the logistics of ordering sizes and numbers…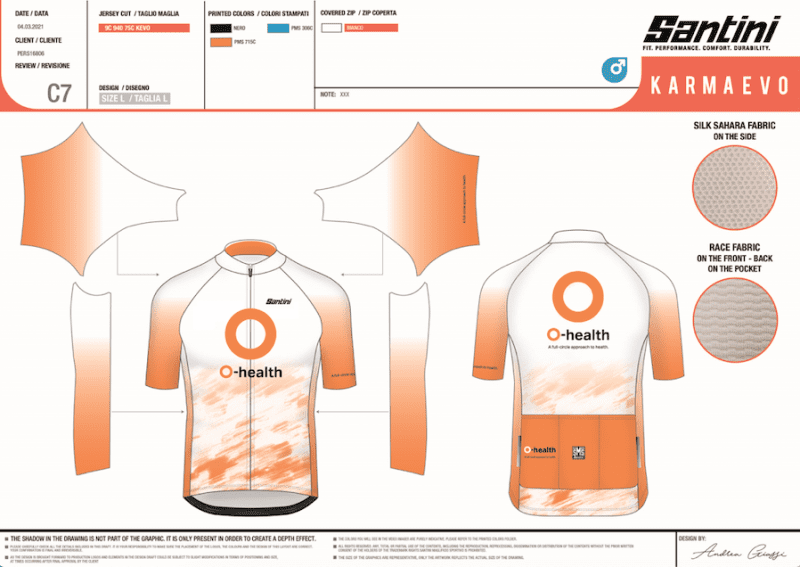 Which brings us to the next exciting part of the blog! If YOU want to get your hands on some brand new O-health kit, then please get in touch!
For two weeks we will have sample sizes to try at the clinic to help you get your sizing right and maximise your comfort.
We love having you in our cycling kit- it looks great, it feels great and you will be very visible on the road. We sell our cycling kit at cost price- you will not be able to get Santini kit for less than this.
It is $250 for a pair of our knicks and jersey- that's it. A total of $250- Santini knicks normally retail for upwards of $300. We do not hold stock.
If you want it, you need to:
Email your interest to tomduck@o-health.com.au
Arrange a time to come and try the Santini samples on at

O

-health
Order your fantastic kit- we are only selling this as a knicks and jersey combo (otherwise we can't get the great pricing that we've got)
Pay

O

-health
Collect your awesome

O

-kit when it arrives!
Look great, impress your friends and set new KOM's in your new O-kit!
-Tom Duck