I have always loved a personal challenge. I got into running when I was younger as it was something you didn't have to be skilled at, you just had to be consistent and work hard. 
When I was 16, I ran my first half marathon (21.1km) and when I was 18, I ran my first full marathon (42.2km). 
Since, I have competed in over 7 half marathon events.
My last running event was in 2018, when I completed the Noosa Marathon. Since then, I stopped running due to a chronic gut condition and put more focus into strength training. 
In late 2021, I decided I wanted a new challenge. I also wanted to overcome my gut condition stopping me from doing the things I wanted to do.
Working at O-health, I am surrounded by athletes and felt inspired to give a 70.3 Ironman a go.
A 70.3 Ironman entails a 1.9km open water swim, followed by a 90km bike ride and finishes with a 21.1km run- a total distance of 70.1 miles.
At this point, I had not completed any lap swimming in nearly 10 years, and I had never ridden a road bike. It was something totally different, out of my comfort zone, and I wanted to give it a crack. 
In December, I bought a road bike and decided to get back in the pool. 
The first time I went out riding on the road I was terrified. I remember going down a hill, staring at the thin wheel circling in front of me, gripping the handlebars so tightly that my hands hurt, and thinking to myself that I was less scared when skydiving. When I went into work the next day I expressed to all my colleagues who cycle that one, I thought they were crazy, and two I now have a new respect for cyclists. 
I started trying to get back into running, however this wasn't easy. Some days were good, and others I was unable to get through any more than 2km without having to be picked up or slowly walking home. This was not only physically painful, but it was upsetting comparing myself to what I have done in the past, and more than anything it was downright frustrating. However, I kept consistent, and over time things improved. 
As of the 1st January this year, I began my training for Port Macquarie 70.3.
My training was not as structured as I ideally would have liked it to be. With working full time, planning and preparing for my wedding, trying to maintain a social life, attending a friends wedding, having 2 x hens parties, a funeral, a honeymoon and camping at easter, I had to accept this.
This meant my training load each week varied with an average week of 8.5 hours, and my biggest week doing over 13 hours. 
I really loved the training, I just struggled to fit it in. It wasn't until about 3 weeks out from Port Macquarie that I really hit a wall.
The 5am wake ups were getting tough, my body was feeling fatigued, and mentally I was starting to struggle.
Doing most of my training solo, my motivation was low. I explained how I was feeling to one of my colleagues Tom Duck, and he encouraged me to take a few days off and break up my training by doing something different, which I did. 
By the next week, my head was back in the game and I was getting pumped for the event. 
The week of the event, my training was very light as I rested my body in preparation for the big day. 
The race was on a Sunday in Port Macquarie, so the Friday prior my husband and I left early in the morning and headed up north. We arrived late in the evening and took a walk to stretch our legs. 
On Saturday morning I met a few other Albury/Wodonga ladies at the swim start location, and we did a practice swim together. This boosted my confidence and it was calming to talk all things triathlon with ladies who are more experienced than I am.
Later that day I completed the athlete check in, and racked my bike amongst the few thousand other bikes ready for the next day. 
I aimed for an early night Saturday, I did some mobility exercises and went to bed with a belly full of pizza (how good is carb loading), and felt excited for the next day. 
Sunday morning I was up at 4am and started my day with Vegemite toast. I arrived at the race start about 5:30am for a 6:30am start. 
Time seemed to fly, all of a sudden 1600 athletes competing in the 70.3 event lined the entrance to the swim, all with the same cap on and feeling a mixture of nerves and excitement.
As I got to the start line, I took a big breath, put on my goggles, started my watch and it was go time. 
Trying to get into a rhythm in the water was difficult as I was getting kicked by others around me. The splash of other swimmers made it difficult to see, and I took a few big gulps of salt water.
My plan for the swim was to keep slow and steady, and conserve my energy. I feel I did this successfully as I got out of the water with plenty of energy for the bike. 
I had a quick transition and was straight out onto the 90km bike course.
Port Macquarie Ironman is known for the tough bike course, it's hilly and the roads are rough.
Despite this, I surprised myself on the bike and felt strong up all the hills, often overtaking others.
I used the time on the bike to get in plenty of energy gels, and hydrate.
Unfortunately, through the whole second half of the course it rained. Already being a bit nervous on the bike, I held on extra tight and purposely slowed down.
Coming back into Port Macquarie in the last few kms of the bike course supporters yelling out words of encouragement hyped me up. Getting off the bike I was soaking and felt freezing. This made it tough to start running, as I was experiencing nasty cramping in my quads and calves. This made what I thought would be my strongest leg of the three, the hardest. The whole run felt like a real slog, trying to keep my legs moving, and get from one aid station to the next.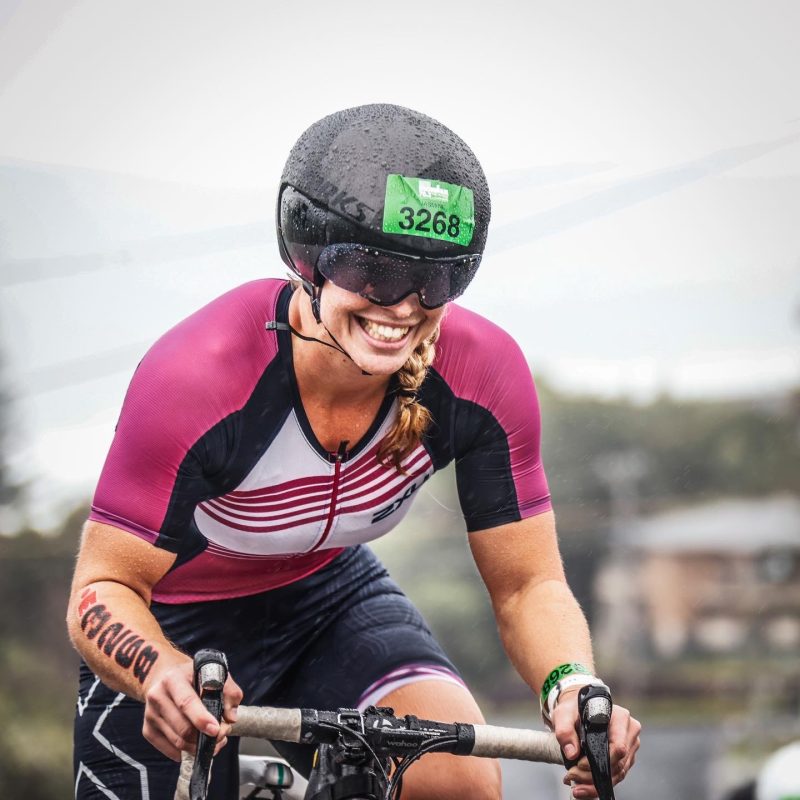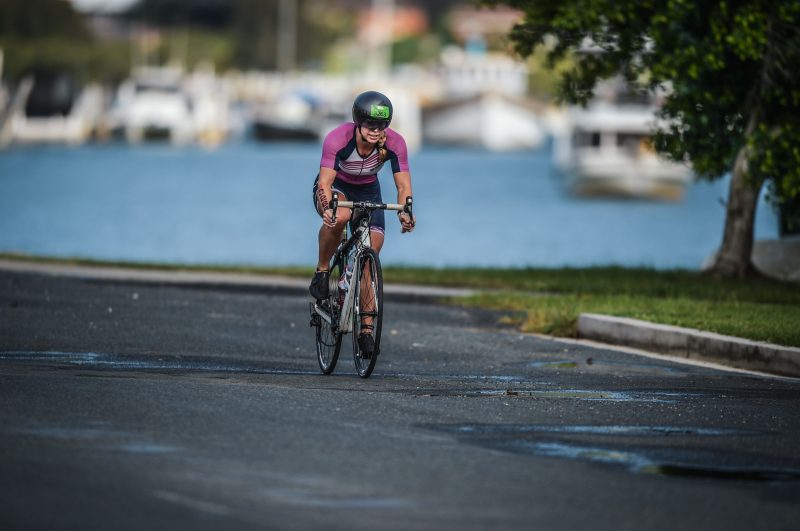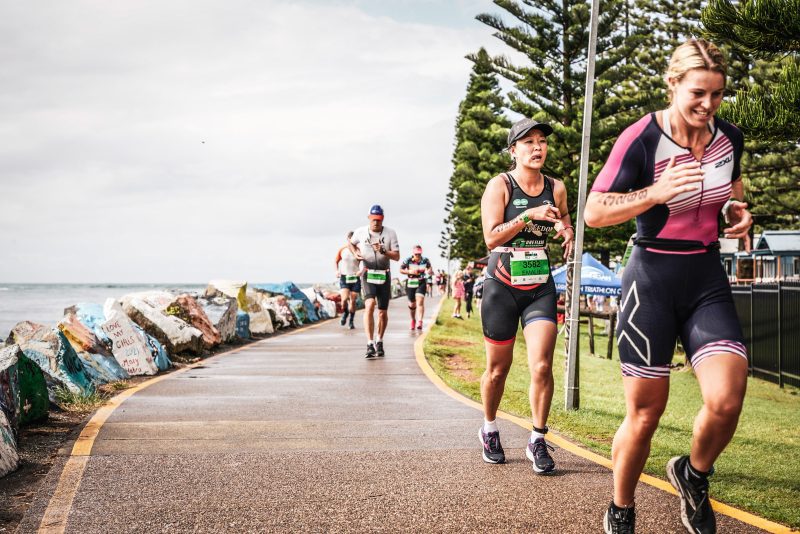 Once I passed the 20km marker and I was heading back towards the finish line, I felt relief.
Turning into the finish line strip which was lined with a cheering crowd made it all worth it.
6 hours and 4 minutes. I crossed the line, was presented my medal and towel and couldn't wait to see my husband and grandparents who were waiting for me. 
We hung around for many hours afterwards, supporting athletes who were still out on the course. The atmosphere was incredible. I have never seen so many strangers supporting each other. 
Three weeks ago, I said I will do this 70.3 Ironman and never do another. Now having experienced the feeling of crossing the finish line, I may be tempted to do another one. 
I am very proud of myself for chasing a goal that was totally out of my comfort zone. Looking back at my first ride on my bike just under 5 months ago, I rode 18km and I averaged 21km/h. At Port Macquarie I rode 90km and averaged nearly 30km/h. I got back into running, and while training ran a 10km personal best of 42 minutes. 
I sincerely thank my colleagues at O-health for supporting and encouraging me.
Also a special thanks to Tom Duck who came with me to purchase a bike, fitted me on the bike, lent me his specialist gear, swam next to me while I was terrified of open water swimming, and reassured me when I was riding the emotions of training for an Ironman event. 
Also, my husband who put up with months of 5am wake ups, and supported me the whole way through – I couldn't have done it without you. 
Time to rest, recover (and maybe do it again). 
Jas