Working with the Avanti racing team has given me the chance to make several forays into Asia throughout the season. This year the team has competed in Taiwan, Japan, Korea and most recently in China for the aptly named "Tour of China 1" and "Tour of China 2". Now I understand that working with a professional cycling team may sound like quite the glamorous career option, the truth is that this is not always the case… Interspersed with the fun of travelling and the enjoyment in successful racing is a lot of dirty cycling knicks and most recently, many, many hours spent in buses! Allow me to fill you in…
Tour of China 1 and 2 are stand-out events and having now experienced the race for two consecutive years, it is extremely clear that, unlike the organisers of the "Tour Down Under", the Chinese organisers do not take the title "Tour of China" lightly. Oh no, when they say "Tour of China", they literally mean a tour of China. Many of you may not have been to China, and in any case, you almost certainly haven't been on a tour of the entire country, as we have, in just over 2 weeks! To rattle off a list of the places we visited would perhaps be a bit meaningless, but don't worry because what follows is an attempt to "translate" the Tour of China 1 into Australian. Chinese cities and locations will be substituted for Australian replacements, but will remain true to the actual travel durations experienced in the Tour of China. Hopefully, this will allow everyone to fathom the crazy distances covered during this epic tour!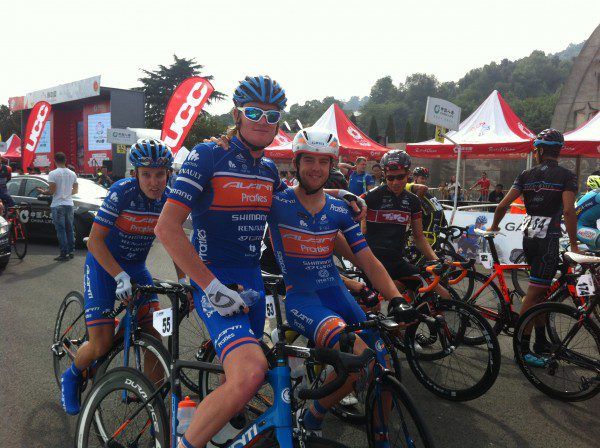 Mitch Lovelock Fay was creeping, well, not on the bike but certainly in photos..
Day 1. Arrive in Melbourne airport 1am. We wait around for a bus to arrive and load up all of the bikes and many boxes of equipment. It's a game of tetris and we are ready to go by 3am, but we needn't have hurried, as we then wait for another half an hour before driving 20 minutes into Melbourne city to a hotel. Unfortunately, this hotel wouldn't be used as a hotel at all, but simply for a rendezvous with a baggage truck. After unloading the bus, we then repeat the entire process and load up our bikes into the truck. We then boarded another bus to drive 2 hours to Benalla. After arriving at 6am, we had had very little sleep and had been on the road for 24 hours. But it's not all bad news – breakfast is now open!
Day 2. Day before tour starts. No travel (much relief for all).
Day 3. Stage 1. 110km circuit race in Benalla. No transfers.
The boys on Stage 3, defending Albury's own Neil van der Ploeg sporting the yellow!
Day 4. Stage 2. Drive 2 hours from Benalla to Mount Beauty. Race a 3.1km TT. Drive back to Benalla.
Day 5. Transfer day. 6am depart. Drive back to Melbourne airport and catch flight to Brisbane. Drive 2 hours North to Noosa Heads. Arrive 5:30pm.
Day 6. Stage 3. Noosa circuit race 125km. Shower and lunch. Drive 3 hours North to Bundaberg.
Day 7. Stage 4. Bundaberg circuit race 110km. Stay in Bundaberg.
Day 8. Transfer day. Drive 11 hours to Townsville.
Day 9. Stage 5. Point to point stage 156km. Shower and lunch at hotel. Drive 6.5hours to final destination – Cooktown.
Day 10. Stage 6. Final stage of Tour of Chi… oops, Australia 1. 140km circuit race. Stay the night in Cooktown.
At this point, Tour 1 is complete but the journey is far from over. The second tour (Called Tour of China 2 in real life) involves another 6 stages that cover equally impressive but vastly different terrain to the first tour! By the finish of the second tour you could literally be anywhere in Australia! Yes, Tour of China 1 and Tour of China 2 are crazy races, but the travel is just the tip of the iceberg. Factor in the Chinese road rules; (or lack there of); exotic food (chicken's feet anyone?); fiery, fist throwing, hip slanging Italians; Boris the Russian and wards of Chinese cash everywhere and you are beginning to understand the Tour of China experience, but those are tales for another time…