Having ridden the Cloudride before in 2018, I have gone through my own "I think therefore I am moment" and yes, I chose of my own free will to come back and ride it again.
What is the Cloudride?
It is a 1010km long self supported bikepacking race starting in Canberra and finishing in Canberra whenever you get back. The course traverses South through the Monaro, across into Victoria, up over the Snowy Mountains via Jindabyne and back to Canberra via Wee Jasper. There are no stages. You start at 8am on Good Friday and finish when you finish. Sleep and rest are optional luxuries if you choose.
The Cloudride and little sibling event the Cloudride Prologue (only 500km) are organised by Steve Watson. Steve has been putting this ride together since 2014 and he somehow appears younger each year I head back for one of the events. If you are into bikepacking and haven't heard of the Cloudride, it's likely because Steve focuses on putting together a really tough course and never big notes himself.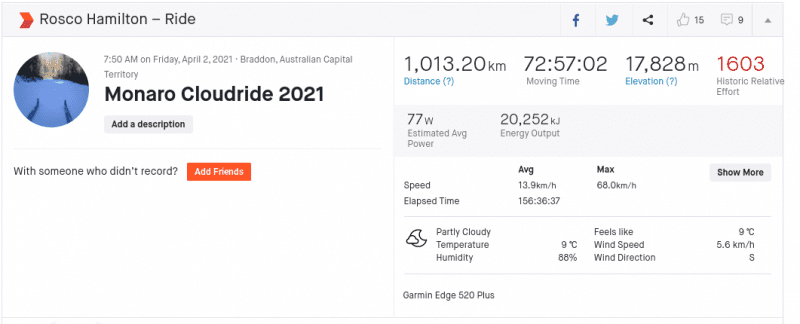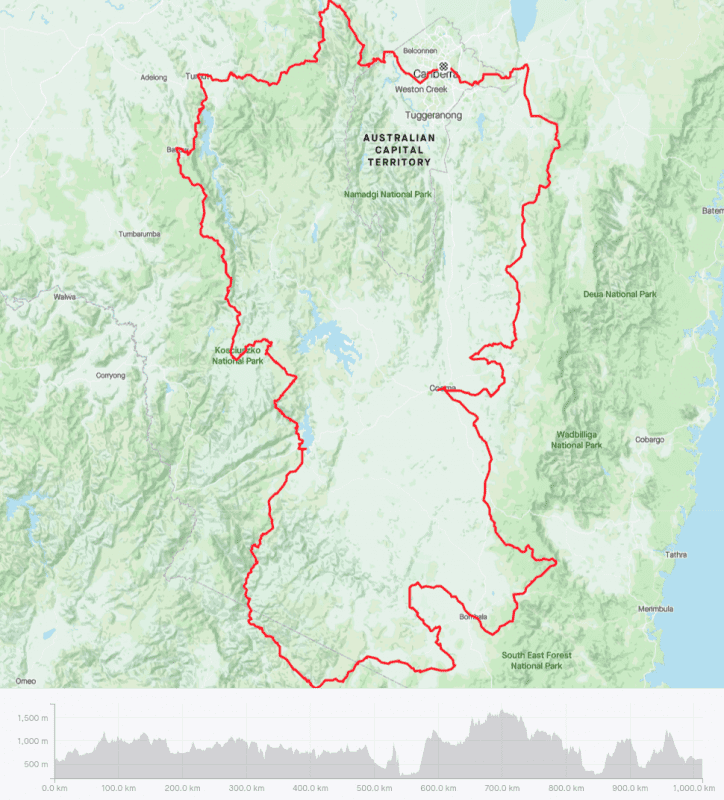 The course: there's an awful lot of up and down in this ride.
So how was it this year?
It was brutal. When I rode the race in 2018 I crumbled half way through, then came out stronger on the other side. This time the course was a lot harder and it just broke me. Apparently bushfires in 2020 caused several course changes that involved a lot more time carrying your bike or pushing it through waist high blackberries. Suffice to say this year I had several instances of taking 3 hours to cover 10km. Next time I might just take a unicycle and a backpack so it's easier to carry. I also had some strife from wildlife this time. Wombats, owls and a snake all had a go at me.
The race
I have already written about the race back in 2018, so I'll try to keep this bit brief. My first day was a pretty smooth experience apart from getting attacked by a wombat late at night. Apparently wombats are the only mammal known to science to be made out of a solid lump of steel. They also have a habit of running towards bright lights and headbutting your front wheel. Consequently I hit the deck at high speed and came back up wearing the Dolmio grin.
I started pedalling at 8am and just kept going until 1am. There were less than 30mins stopped on day one and I reached Cooma for a sleep. Before the start of the Cloudride I promised myself that I wouldn't write myself off and I was just in it to finish it. But once a racer, always a racer, therefore a session of self punishment awaited.
Day two came along and I pushed to Bombala for a meal break. Earlier in the day I was riding with someone who insisted that he was an architect. However, when questioned he didn't know anything about rotating knives or Monty Python's architect sketch and therefore I will remember him for suggesting we push on to Delegate after finishing a meal at 8pm.
The race guide indicated the next 90km would take about 4-5 hours. Keen to sleep in a real bed instead of a bivvy bag again, I booked accommodation just out of Delegate and set off anticipating a 1am arrival. Bombala to Delegate did NOT take 4-5 hours. It was a very hilly section of the race that involved lifting my bike over high fences, pushing it up unrideable hills, carrying it on my shoulder while wading across a waist high river and walking through a relentless paddock of thistles. After running out of water at midnight and taking a No-Doz to stay awake, we crept into Delegate at 5am, a 9 hour ride.
Time for sleep you would think? Ha! That No-Doz came back to haunt me and I lay awake in bed until 11am wide awake while being desperately exhausted.
This experience made me reflect that there are many discomforts in life I can tolerate. I can handle being cold, wet, hungry, in pain, physically exhausted or even a visit from the in-laws but I cannot handle sleep deprivation. I had covered half the course in 48 hours, but I had also missed an entire night of sleep that I wouldn't recover from.
After taking a 24 break, I started off to ride over to the Snowy River and up to Jindabyne. This is the hardest section of the Cloudride. It includes a 30km section of steep uphill and downhill FWD track where you can only push your bike. After a rest I was actually making good progress. I started thinking of making it to Jindabyne by sundown, resupplying my food and leaving at 3am to get going on a competitive race again. I was still on track to finish in under 5 days after all.
But then the GPS took me straight through a field of cats eye bindis as I crossed the Snowy.
Both tyres went flat as I crossed the river. What followed was a soul crushing experience of spending an hour pulling bindis out of my tyres with my mini leatherman pliers then checking my tubes to see where the hole was. Turns out there were 14 holes in the front tube and 12 in the rear. I had taken two tubes with me; you know, just in case I got really unlucky. One tube got used on day two with my expected bad luck. That's OK I thought, I'll just have to patch the remaining tube. Oh wait, I only have ten patches.
After my enthusiastic morning I had no choice but to sit by the side of the river for two hours and wait for another rider to come by and give me a tube so I could continue. My chance to race this event was over and my balloon of eagerness had burst. There was no way I could make it to Jindabyne in time for the supermarkets and I would have to wait until at least 9am for the bike shop to open in the morning. I was out of food, out of spare tubes and Jindabyne was 26 hours ride time from the next re-supply point.
From here on I was just riding to the finish.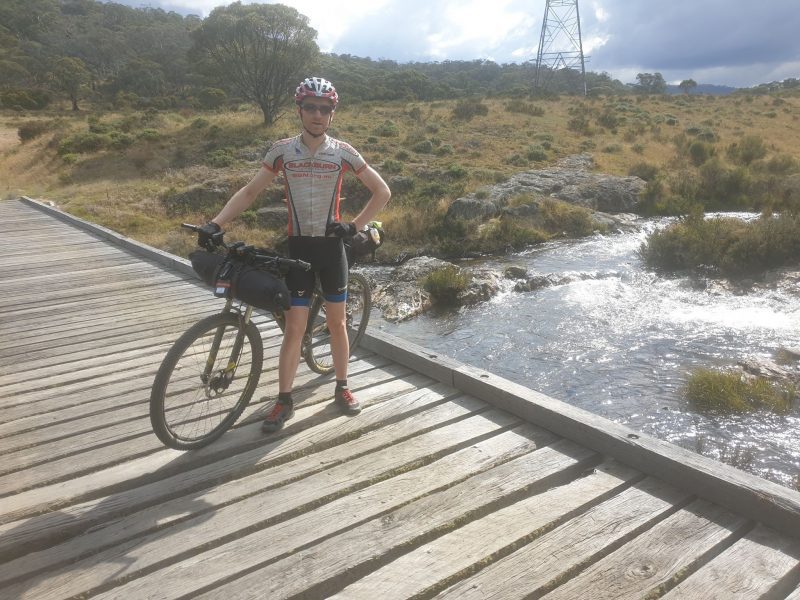 On the bridge over the Gungarlin River
Just riding to the finish took me another three solid days of riding. Up and over Kosciusko was a slow creeping progress on very rocky trails. The scenery was quite impressive, so I was glad to not be in a hurry to finish. I camped the night near Mt Jangungal in a hut, glad to sit in front of nature's TV – an open fire.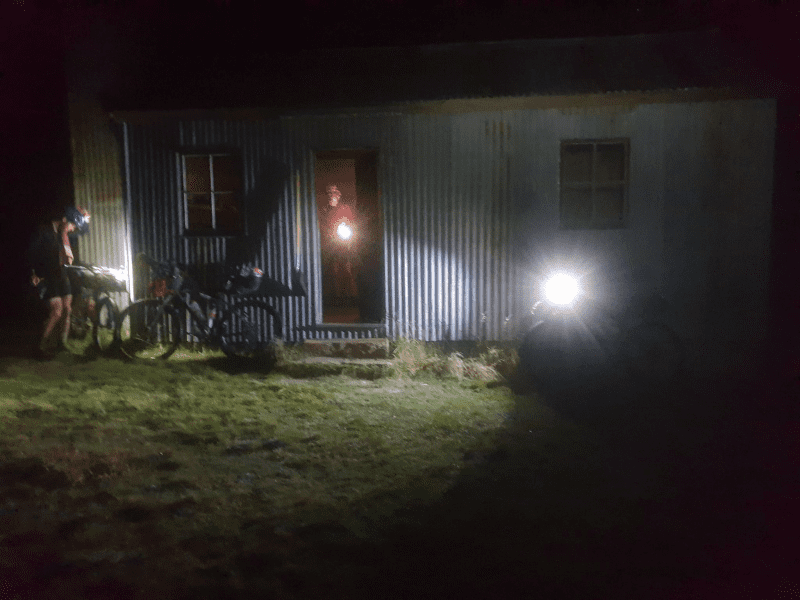 I spent the second half of the ride with two fellow Cloudriders.
As Kerry Packer would say, thanks for your company.
Theoretically it's easier heading down off the Kosciusko main range as it is predominantly downhill. It still took all day to reach Batlow.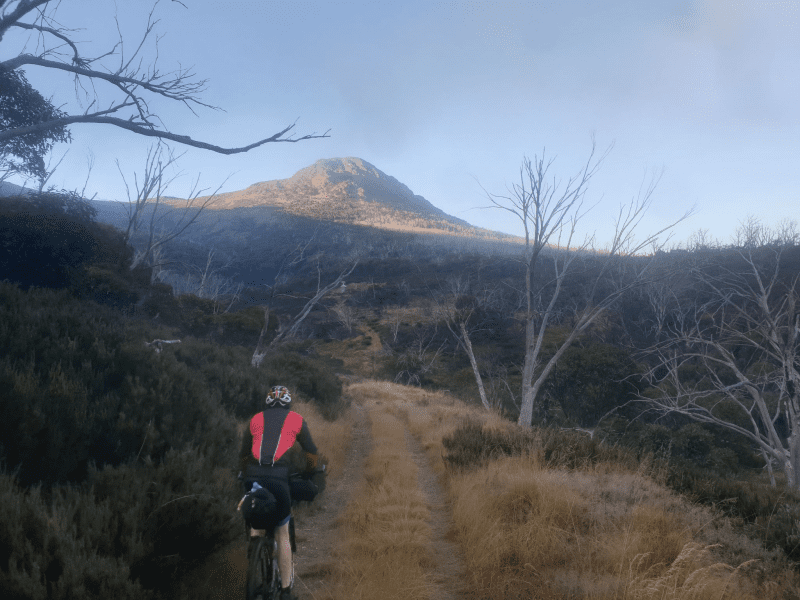 Heading towards Mt Jangungal at sunrise
From Batlow it was only 40km into Tumut. Sounds quick and easy right? This year's course happened to include diabolical blackberries that left me pushing my bike for 10km (with bare legs). This bit took 3 hours. Finally the blackberries relented and I thought it would be an easy cruise into Tumut. But no, it was another 3 hours of hike-a-bike through fire trails.
By 11pm I was only 10km from Tumut on a paved road. What a luxury. Yet this is where I really hit my low point. I was so exhausted I couldn't remember which way was left and which way was right. I was just following the pink line on my GPS and keeping moving when all of a sudden I was taken by surprise by flapping wings and sudden head trauma.
An owl had taken exception to the flashing rear light on my helmet, swooped me and started pecking at the red light. I couldn't see the owl until it flew away, just flashing lights and wings flapping around my head. It was like getting mugged by the mothman in a nightclub.
After a massive adrenaline rush I made it to Tumut, slept and readied myself for the final push.
The last day was a simple affair. It was 170km to the finish. It would take 12 hours and I just needed to pedal. I knew what I was in for and knew I could finish it. This Cloudride had a habit of throwing me some difficult circumstances and the last day saved up its trouble until the 8km to go mark. A wombat attacked me again, this time on a suburban Canberra bike path. After hitting the deck I evaluated the damage. I was ok, nothing broken. Back on the bike, keep pedalling and bam, I broke my chain and front derailleur. Here I was, on a bike path in Canberra with no choice but to run the final 8km and push the bike next to me to the finish line. All of those Saturday morning ParkRuns paid off though and I actually enjoyed my run in.
How to complete the Cloudride
Bikepacking racing is an eating game with a bit of cycling thrown in. Cloudriders can reasonably expect to burn 30,000kj per day. It's not realistic to eat that much per day, so it's important to make sure what you do eat has the highest energy content possible while still being easy to digest then hope the consumption comes close to the expenditure.
Sleep is probably the next big consideration. I need 5-6 hours per night minimum. I know others can live off less, especially for short bursts, but sleep stops need to be reasonably planned and then adhered to. This can also complicate re-supply. The towns visited don't have 24hr services so there is an important strategy to when you leave, when you sleep and when you eat. Keeping in mind sleeping in a real bed indoors is a lot more restorative than sleeping in a gutter on the side of the road in a bivvy bag. Where possible accommodation is worth it.
This year's ride had me lose 3kg in body fat. Not quite as much as last time. But still a lot in a week.
Food:
There's a heap of options out there. But for me and my food allergies there were a few great options.
– John West tuna and rice meals. 1700kj per 100 grams and no cooking required.
– Honey – 2200kj per 100 grams.
– Chickpeas – energy dense but not full of sugar.
– Energy gels – because sometimes you just need the rocket fuel.
– Oats – can be soaked in water overnight with honey to make an energy dense breakfast.
– Apricot delight.
– Orange juice – rich in potassium and fructose. Easy on the stomach.
– Potato. Any old how. Chips, mash, instant mash, gems, baked, it's all excellent bikepacking food.
– MacDonalds hot apple pies. They fit in a jersey pocket and are full of kilojoules.
Whenever I got a chance I filled my face with whatever was available in a town for resupply. Vegetables, steak and Solo were at the top of my list each time I stopped.
It is also interesting to look through the drinks fridge and see which soft drinks have the most sugar. Turns out it's usually ginger beer.
Sometimes you get lucky and come across a trail angel. Usually someone watching the race online who leaves out water or food.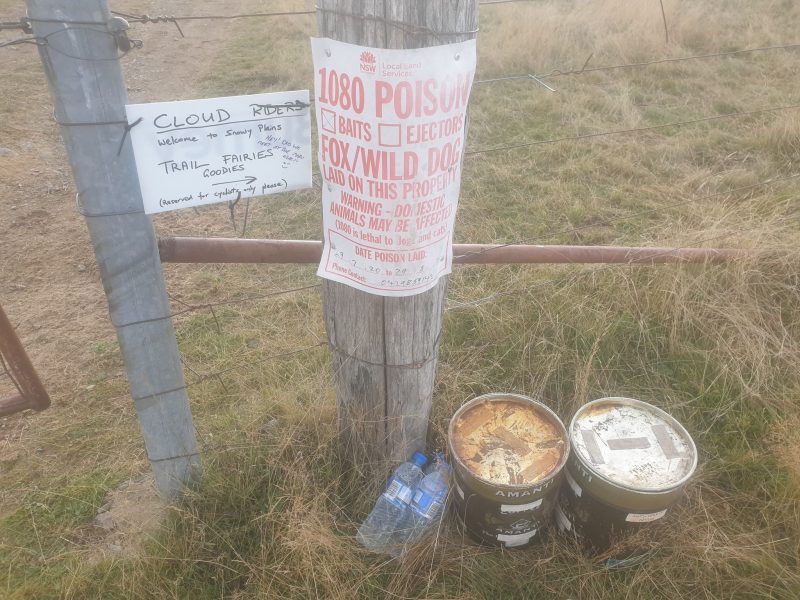 Trail angels left out coke and water. As an aside, pest control in Australia is in a lot of trouble if foxes or dogs ever learn to read. Or even just recognise what these signs mean to them.
Gear:
I used a Topeak bike bag set up. I used a front roll on the handlebars to hold my sleeping gear, a bento box behind my handlebars to hold batteries and other knick knacks and a rear bag which was mostly full of food. When deciding what to take, I tried to make sure an item had more than one use. That way you can cut down on total gear weight and maybe even survive a blizzard.
My other important equipment was:
– Garmin Edge 520 GPS for navigation.
– Steripen. This is a UV light used to sterilise water. I also used a musette bag to filter big particulates from water when needed.
– Chapstick – also makes good chamois cream.
– Photochromatic sunnies for night and daytime riding.
– Full finger gloves – not only do they protect you in a crash, your fingertips don't get dirty
– Bivvy bag, sleeping bag, inflatable mattress.
– Woolen everything. Socks, underwear, base layers. In future I would also use a woolen jersey. Wool is a great fabric, it resists getting smelly better than anything else and stays warm when it is wet. A good woolen undershirt can look like a presentable shirt in town.
– Two zip lock plastic bags. Good for putting rubbish in but also good to make your feet waterproof in an emergency.
– Hiking pants. I have a really thin and water resistant pair of these that look like chinos to wear in town, but also double as a pair of pants to ride in when it's really cold or wet.
– Rain jacket – this needs a good zip for all the time spent cooking going uphill followed by freezing going down.
– 2L water bladder. Some sections of the race had no water for 100km. So extra water on top of the 2 bottles on the bike is occasionally handy.
– 2 x 500 lumen front lights. You need to see the trail to make any progress at night.
– 2 x 15,000mAh USB batteries to run my lights for a full 10 hours of darkness as well as charger cables.
– Sunscreen.
– Spare chain lube in a tiny bottle.
– Repair kit with multitool, pump, zip ties, spare tubes, patches, mini leatherman.
– First aid kit to handle wombats, snakes and owls.
I would also recommend an MP3 player. It can get a bit lonely out there and it helps to fill the time. I also spent 3 days with "keep your eyes on the road and your hands upon the wheel" stuck in my head. Great advice for a motorist, catastrophic advice for a cyclist.
The Bike:
I used my rather old GT Zaskar 29er. This bike is nothing special, but it is tough, relatively light and has served me well for many bikepacking adventures. Many bikes can handle the Cloudride, but I would recommend the widest tyres you can get away with.
After my dodecapuncture I would highly recommend a tubeless set up. I know, nobody else rides without this these days and I am a luddite.
Speaking of being a luddite, I would also recommend 2 chainrings. Having lots of gears makes a big difference when you are carrying 10kg of equipment and need to just grind away slowly on a hill.
All up the bike and gear weighed in at 23kg. Lots of that was food. It's possible to get lighter, but with less gear and food you start getting vulnerable to misfortunes like sudden weather changes in the alps or missing your food resupply points.
The last tip I can give is to avoid stopping. Little breaks during the day add up way faster than expected and can easily amount to multiple hours. Sunlight is precious when bikepacking and cannot be wasted.
-Ross Hamilton