Over the Christmas period, we were lucky enough to head across to Tathra with Tom's family for some beaching, camping and mountain biking.
Unfortunately, it didn't all go quite to plan for me.
I celebrated a few firsts:
First decent mountain bike crash
First ambulance ride
First decent musculoskeletal injury
First hospital admission/surgery
First time having to cut off my lycra
Before you read on.. relax, the bike is okay! Oh, and I will be as good as ever in about 2 more weeks!
A few days into our break, and on the "final run of the day", I came off my mountain bike on a short but steep descent.
For those of you who are familiar with the fantastic mountain biking on offer at Tathra, we had ascended the hill via School Track, Corkscrew, Melba's Rise, then Soft Sally. We took a short recovery at the top before we commenced the descent of Hatti Gatti and finally Anchors Away.
I was already thinking about the beach and family time in the afternoon, followed by a pub meal at Tathra Pub that evening (the most picturesque pub in Australia).
Nearing the end of the run, approximately 500m from the fire trail, I misjudged the track and caught my right handlebar on a tree, causing me to be flung over the handlebars onto my left side.
Whilst still catching my breath on the landing, I was composed enough to ascertain my head was intact and so to all bones and joints. Just as I was thinking I had gotten away with it (yet again), I glanced down to see INSIDE my left kneecap!!
Thankfully my sister in law and nurse, Mary, was following closely behind, with Tom making up the trio a little behind her. Together we bandaged the wound with our jerseys and she went into first aid management mode. Mary propped me up safely with my left leg extended and elevated, while Tom phoned an ambulance and proceeded to figure out exactly where we were on the mountain bike park.
With the assistance of my support crew and some fellow mountain bikers unlucky enough to run into us, I managed to get on a bike and was rolled safely down the hill to the nearest fire road, where we were met by the ambulance.
As I was being loaded into the ambulance, we came across another mountain biker who introduced himself as Adam, the local on-call orthopaedic surgeon. What are the odds? I bid him farewell, hoping not to see him again that evening!
I was taken to Bega Hospital Accident and Emergency. Considering the depth and dirt in the wound, it was decided that I would go into surgery for a full washout and stitches. Needless to say, poor orthopaedic surgeon Adam was called in on his day off to operate on me.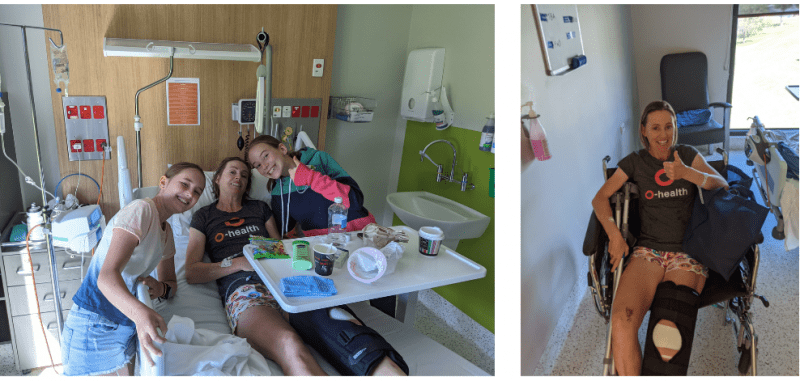 All went well, and I was discharged the following day after passing a physiotherapy mobility assessment (with flying colours), and some strong antibiotics and pain killers.
For now, it's just a test of my patience (and patients!) as I must remain in a knee brace with crutches for two weeks.
Things I have learned:
This was a very desperate method to avoid a family camping holiday
My sister in law is great under pressure and would literally give me the shirt off her own back
I don't like being on this side of things
The body is amazing- it's ability to recover, regenerate and repair continues to surprise me
I won't be due for another good mountain bike stack for another 40 years *touches wood*, so have plenty more rides in me!
I need some new lycra…
If you have read this far, thanks, but O-health needs your help!
We are keen to launch a brand new O-health cycling kit, and would love to hear what YOU think and welcome your input into our new design.
We encourage you to draw and email these designs to us at info@o-health.com.au.
If you are the person responsible for our new design, we would love to provide you with a complimentary jersey as a way of thanks.
So unlike me, keep the rubber side down and stay fit and happy.
See you out on the tracks again in another few weeks!
-Lisa Barry