It has been a busy start to the year for Osteohealth, both within and outside of the clinic. Osteohealth has been out and about supporting a number of important local community events, including 'The Big Splash' and 'City to City Run'. Tom, Lisa and Amelia have also been out and about presenting education sessions to a range of community groups.
On March the 3rd we participated in 'The Big Splash'. This is a fantastic event organised by the Albury Tigers Water Polo Club and is comprised of a series of swimming and novelty relay races. 'The Big Splash' aims to bring people across the Border together for an entertaining and fun night whilst raising much needed funds for and awareness of mental health: http://headspace.org.au
It is the third year this event has run and it is scheduled annually for the first Wednesday in March. Osteohealth has entered this function since its inception and it is always a great laugh and opportunity for our team to catch up outside of the clinic.
If you were at 'The Big Splash' you may have spotted our team which included Marnie, Amelia, Georgia and Kate. We definitely looked the part being tagged as finalists for the best dressed; thanks to Marnie's Osteohealth themed tutu's. We had some pretty stiff competition as some of the teams really went all out.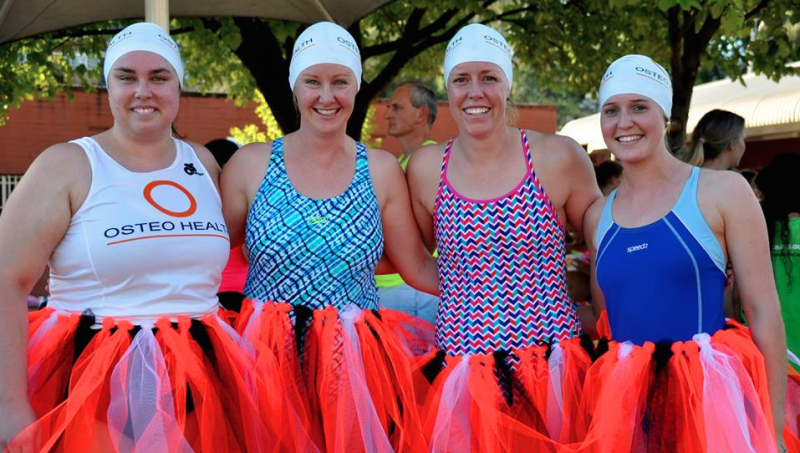 Amelia, Marnie, Kate and Georgia ready to race
On the night we competed in the Health Industry race which was a tube race. We did exceptionally well, placing fourth, despite some hinderance from our chosen attire – tutu's and water don't work well together. Kate was very busy on the night, helping out a Murray High School team, a social mixed team and also competing with her Albury Tigers Water Polo team.
The night was again a huge success, achieving huge numbers and a great atmosphere, with a total of $15,000 raised for 'Headspace' and 'Survivors of Suicide'.
It is a really great event to support and you should definitely consider entering a team next year; you don't have to be a proficient swimmer, you just have to be able to make it from one end to the next, it's lots of fun!!
Paris Marathon
On the clinic front, over the last few months Osteohealth have been working closely with and assisting a group of women, including Vanessa Sexton, Kristy Hogan, Mandy Crispin, Brooke Spinelli and Kylie O'Brien, to achieve their goal of completing their first marathon. These women are travelling to France to participate in the Paris Marathon. This is a massive feat and Lisa (our Physio) has been in the studio with them to ensure they are finely tuned and raring to go. The marathon is scheduled for this Sunday and the entire team at Osteohealth wish them all the best. We hope you are able to enjoy this amazing achievement and we can't wait to hear about the trip on your return!!
If you have any individual or team sporting goals, like running and marathon, that you would like assistance achieving, definitely talk with someone from our team about it. We may be able to provide advice about training and injury prevention to help you fulfill your goals.
-Kate Johnson