Osteohealth was proud to join forces with Peta Stewart Conveyancing to bring the Inaugural Women's Ride to Albury-Wodonga on Sunday 12th April 2015. We want to get more women on bikes more often. We had 90 registrations and are confident that this will become a regular event in our calendar.
The girls were able to participate in one of two rides (bike path and road ride) and each of these were offered at various levels according to fitness and experience. The feedback from the day was overwhelmingly positive and "the ladies" and their families were treated to a BBQ and obligatory coffee at the conclusion of the ride.  We tried to promote lots of mingling and it was fantastic to see everyone discussing the possibility of future rides and introducing themselves to representatives from local cycling groups.  Osteohealth hosted representatives from Pedal Power, Albury Wodonga Panthers Cycling Club, Albury Wodonga Mountain Bike Club and the Albury Wodonga Triathlon Club.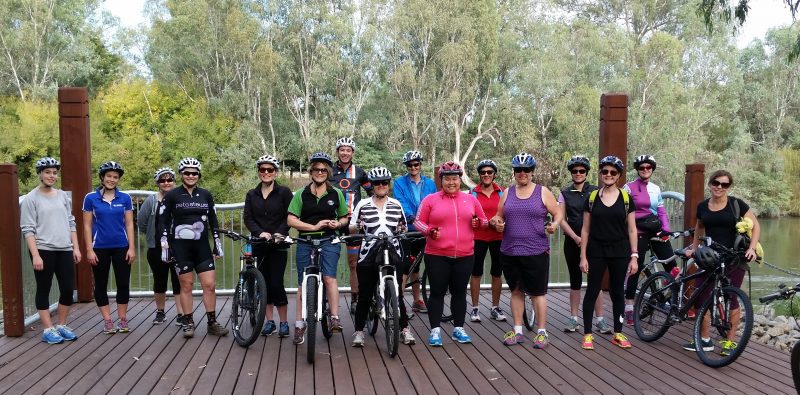 Thanks to the support of: Genesis Fitness Wodonga, AP Delaney & Co, Bendigo Bank Lavington (Manager Michelle Ross), Hutchy and his team at Building Inspection Specialists, Matt and Bike Culture Albury and all the local bike clubs and groups.
Due to the success of the day we will be facilitating group rides in the future, keep up to date with our website/facebook page for details.
Cycling is a great way to keep active throughout your whole life, however it is a repetitive sport and one which if not performed properly can cause pain/problems.  At Osteohealth we offer our unique Cycling Analysis to facilitate long term injury prevention, advice regarding new bike purchases, and (let's face it – we all want a little of this) we can help you go a little faster! Ask for Lisa or Maddie at Osteohealth if you have any queries about the benefits of Cycling Analysis for you.