Well it's been a big month for Osteohealth. We've gone global!
This month our brand has been represented at the Paris marathon and Malaysian 70.3 Half Ironman in Putrajaya.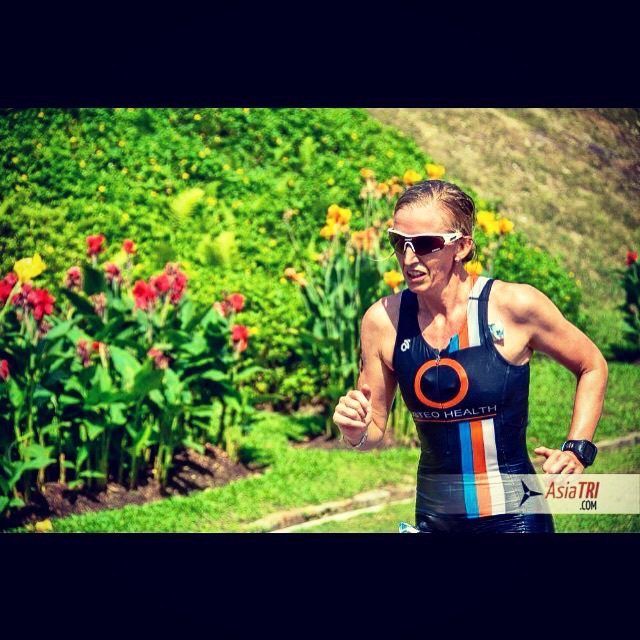 Taryn Heather traveled to Malaysia for the 1/2 Ironman Event and after an impressive 3rd in her category in the swim leg, proceeded to complete the fastest bike and run times in her category to take the top step on the podium. Taryn has qualified for the Half Ironman Triathlon World Champs in QLD later this year and it will be great seeing how far she can go! Tom has been working closely with her to optimise her bike position (which is clearly working as she was the fastest female by 4 minutes, in the process beating all of the professional triathletes).
We had a group of Albury ladies (plus one gent) who donned the orange O to successfully complete the Paris Marathon. By all reports it was a great day out and a successful European adventure for the crew. I particularly enjoyed the lead up to the event when I had the opportunity to spend time with these girls through an injury prevention/strength/stretch class which they completed on top of their training, work and family schedules – it's amazing what some people can fit into a day! Thanks to Brooke, Ness, Mandy, Kristy, Kylie and Adam for the motivation I needed to start my Nail Can Hill prep! Speaking of, if you have some Nail Can goals this year – whether it be to break the elusive hour, beat your partner, complete the ironman event, walk the 11.3 or complete the 4.2 mini can – talk to us! We would love to assist.
Osteohealth is proud to support athletes of all abilities to achieve their goals.
We would love to help you.
We offer various services from injury prevention and training strategies, such as our group exercise classes and bike fitting services; to our acute Osteopathic/Physiotherapy/Hand Therapy services. We ALWAYS go the extra mile for you so that you can achieve your goals. This may mean a small injury prevention course in conjunction with your training for a particular event, telephone/email follow up of progress, liaison with other treating practitioners, training days, or home visits. If you have an event coming up and you'd like some help please contact me lisa@osteohealth.net.au
So what's coming up?
I am excited to finally lock in some small group physio classes at Osteohealth in Term 2! Our Pilates/Tai Chi classes have been up and running successfully for 12 months now. With constantly increasing demand it allows me to do something I'm passionate about – INJURY PREVENTION! If you are interested in our great stability, strengthening and flexibility programs get in touch here to discuss how we can help.
-Lisa Barry