2020 has been somewhat of a rollercoaster for everyone so far.
For us, we started our year on a serious high! Opening our new facility on Mate Street, absolutely loving our new space and the addition of our fantastic new team members.
The first couple of months were (relatively) carefree. We were all excited to be working together in this fantastic new site, and working towards our goal of helping our community become a healthier one.
Things started to change a little when we began hearing the 'C' word- Coronavirus.
We changed the way we ran things at O-health for a little while, introducing new services such as Telehealth. Things are now getting back to "normal" on the work front, with our team all happily back in the clinic doing what they do best- helping patients.
With all of this being said, we thought it was fitting to do a group blog this month. Read on to hear how each of our team members are adjusting to our new way of living both at work and home…
TOM BARRY
Corona has certainly reshaped our lives. We've had to re-engineer our business and continue to provide healthcare to those in need, without unnecessarily risking the further spread of Corona. Thankfully, we've all done a great job in Albury and it has paid off- thankfully no community transmission at this point!
My daily routine now involves getting to work around 6am. I love the quiet and it allows me to plan the day, have a coffee, and listen to the CoronaCast podcast so that we can remain abreast of the situation as it stands in Australia. I want one reliable source of information, rather than an overload of distressing, sensationalised coverage that we get through news feeds and commercial stations.
At 8am I begin to hear the cheery sounds of Sam arriving, and other team members join us chatting and laughing. We've got a great team and our morning meetings are always entertaining.
I typically treat patients through until 2-3pm and then try to get home early to chase the kids outside. Running and riding has been one of our great pleasures and I find it is a fantastic way to blow off steam and get some much needed Vitamin D- I just can't seem to get the same psych response from exercising indoors.
After that- food, talk and some TV time with the kids. I'm also trying to go through my contacts list daily and call someone I haven't spoken to in a long while. This has been awesome and I'd strongly recommend it.
Then bed. Rinse. Repeat……..
LISA
First thing in the morning has changed very little for me, although it is definitely a little more relaxed for the kids. I get up and run/gym or into O-health to plan the day- YES I get dressed every day.
My personal Corona fitness goal is to learn the unicycle- I may need this lockdown to continue for many months if I am even a chance at accomplishing this!
Back at home, I plan dinner- the family agrees that the upside of Corona is the fact that I now cook! It's funny how meal planning has become a daily family activity.
Next up, "school". The kids formal schooling has ceased but we have tried to keep the kids busy at home. Both girls have a typewriting challenge (rewarded if they achieve 40wpm), Lucy is enjoying jigsaw puzzling, and Clare has been doing a little cooking. The girls have also kept up their music by using YouTube clips.
Back into O-health, I'm seeing patients and running my classes via Zoom.
When the working day is done, it's home for some family exercise which involves a run or ride through Nail Can or into the O-health gym.
Dinner together and some family TV time.
Sleep.
Repeat.
BRANT
32 years of being an only child has served me well for self isolation! It hasn't been too much of a struggle to adapt to a different way of life, however I think the dog is really enjoying two walks a day!
The long list of jobs around the house are starting to dwindle down- I even managed to clean the windows and venetian blinds over Easter. I'm hoping by the end of social distancing I may even have somewhat of a green thumb!
As I write this, the thought of missing football has only been minimal as the first two weekends of the season the weather was cold and miserable, so I much preferred sitting at home on the couch in my trackies. However, the smell of freshly cut grass and the thought of warm Spring finals weather, will be sure to draw me back in when the time is right!
SHEILA
Top five perks of the Coronavirus situation for me:
After owning a mountain bike for quite some time and still looking brand new, it has finally started to earn its keep.
Two very happy, well walked dogs.
Baked good. So many baked goods!
Along a similar theme, time to try out new recipes. I highly recommend this broccoli, pumpkin, sage and goats cheese tart by Donna Hay.
Playing Mario tennis for the first time.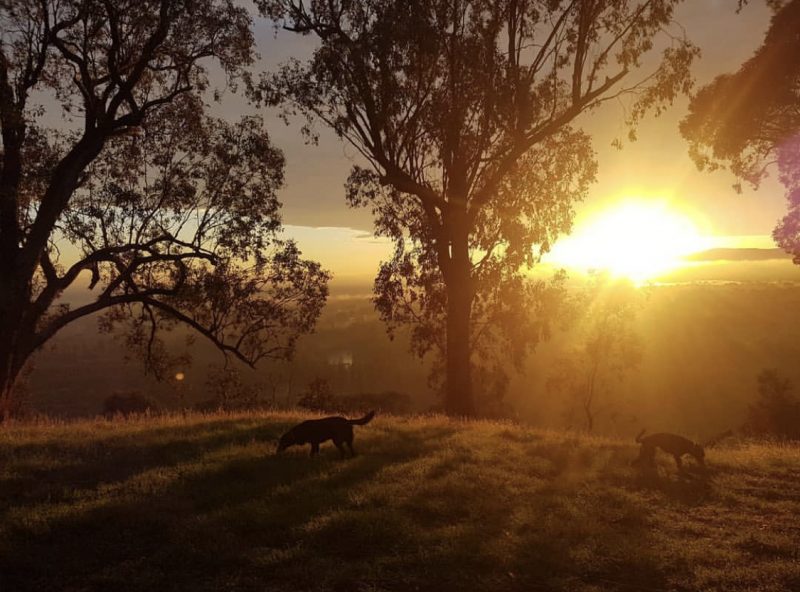 I know there are plenty of things we are all missing out on right now, as a coffee and food lover, I do miss the ability to eat out! However, I am hoping we are all building some great habits from having more time on our hands. I see loads more people out walking, running or riding, and I hope this trend continues.
PIP
"Wait, we are going to do what? Treating people through Telehealth?? But what will I do with my hands??" I have to admit to this being my initial thought when remote treatment was floated. After this initial flap, I was able to sort my brain out- OF COURSE YOU CAN DO THIS PIP!
A lot of Physiotherapy is hands-off, what will be any different- well as it turns out, not a lot to be honest. I meant there is a bit of webcam moving around to demonstrate positions and exercises but actually my biggest asset right now, is my voice. Being able to guide people through movements, self tests, self treatment techniques and exercises keeps me busy for most of the day.
But of course, nothing is straightforward in my world- yes yes, you can use Telehealth and work from home, but surprise.. you can do it with 4 children there full time as well!
We are finding our new normal- it's a bit different, but it's good. My kids school went back two weeks ago as we are in VIC- it was also back to circus training for my two Fruit Flies. So there is 6 people here, all on devices and remotely connecting with the world.
Somehow it's all organised chaos, and somehow it's all working!
Oh and I am loving the ability to wear my slippers for work time!
ROSS
For starters, my garden is undergoing some big changes. If anyone wants to discuss the merits of one turf grass vs another over a cup of tea, hit me up. Other current areas of interest for me are flowers and their role in attracting bees, as well as trees in urban design.
The most noticeable change however is what's growing on my face. Two weeks ago, a conversation with fellow male staff members turned to the idea of a beard growing competition. However, I was the only one to stick to my word and am now sprouting an increasingly bushy ginger beard. I expect to catch up to Sam within a month, then set my sights on growing a beard to rival my current favourite philosopher, Aristotle.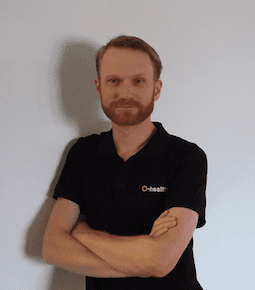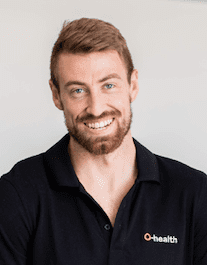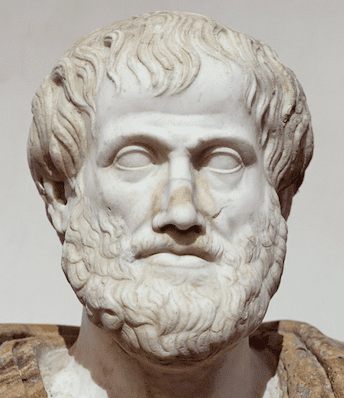 TOM DUCK
I have found the initial adjustment to Corona Isolation a little bit tricky, however being able to still come to work throughout the week has been a massive help. Coming into the clinic means that I can still help patients with my hands on skills, call other patients to check in, and also get a few games of table tennis or some time in the O-health gym under my belt!
Outside of the clinic, I have been trying my best to cycle regularly and have now started running- thanks to the advice of Sam. When not exercising, I've been trying to minimise the amount of screen time throughout my day by reading books and playing the guitar.
SAM
Coronavirus has definitely thrown a few curveballs at normality. From a work perspective, the gym is obviously not functioning in a capacity that is desirable. This has meant that all our gym goers have been shifted to online programs that enable them to still train and exercise at home. We've also been setting up some programs that will be available online to encourage people to keep moving and stay active during these times of isolation.
Outside of work, life is looking a lot different to what was planned. I've gone from 4 nights a week of footy training (playing and coaching) to nothing. It's a bit of an empty feeling to not be playing footy but I'm always happy to look at the positives of each situation. This free time has allowed me to spend more time each afternoon with my wife which is so important. I'm still training hard in hopes that we may still get to see some of the season.
I've been experimenting with my home brewing lately, trying to take what I brew to the next level. I'm also looking into some short courses and learning more in areas that interest me. I think this time could be a really useful opportunity to improve your knowledge, skillset and character.
SCOTT
Coronavirus has come at an awkward time as I was just getting into the swing of things at O-health. It has forced everyone to adapt and manual therapists are not immune. It's been interesting and fun to learn a more digital and remote approach. Some of you would have seen me work up a sweat on one of our Facebook live sessions which was good fun.
Personally, it has allowed me to finally start my vegetable garden again which had been deconstructed for a good few months. So I'm looking forward to some Winter vegetables. I'm also enjoying getting back into running, and realising how unfit I am! I'm trying to slowly build some more kilometers and continuing being active in our gym space which I'm loving!
HELINA
I have enjoyed my time working from home in Melbourne. It has been something to adjust to but I can't complain. I am grateful I still have a job; one that can provide a lot of value to people during these times too.
I miss eating out the most.. it's my go to for social gatherings. My bank account is enjoying the vacay though. Backyard workouts have been manageable despite doggo interruptions, but if it gets me out of the house I am down for it. Stay safe and well.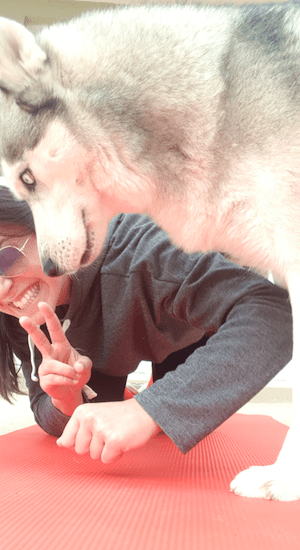 NIKOLA
Working from home full time for a few weeks was a new experience. Not seeing my team mates each day was the biggest adjustment. However I must admit, I did enjoy the new uniform of tracksuit pants and slippers. My dog Bella also loved the full time company, pats and lunchtime walks… she is certainly missing me now that I'm back in the clinic a couple of days a week.
Outside of work, I am quite the social butterfly so these restrictions have significantly changed my routine. There have been plenty of FaceTime chats with friends and family but mostly, I'm taking this time to focus on my overall health and wellbeing. Our shed has been transformed into a home gym, I'm taking my dog on regular walks or rides and something new I've started since being in isolation is a daily yoga session which I'm really enjoying.
Living on 5 acres, there is always plenty of things to do at home. I've been loving getting out in the garden and ticking some things off the forever growing to do list.
SHEZ
Working from home with two children homeschooling has been an experience! I have tried to embrace this situation as I hope it never happens again. As much as I felt I was accomplishing quite a lot, it just wasn't the same as going into the clinic and catching up with my work mates and the patients. Anyone that knows us well, will know the banter that goes on and I can honestly say I missed that.
We have all stayed quite active at home and have been regular visitors to Nail Can- anything to wear out my 11 year old boy!!
Let's hope we can all get back to a normal way of life sooner rather than later.
MALLORY
This isolation has been a weird time for me, as it has been for everyone. The stopping of sport has been a big adjustment, but I am lucky that I have a tennis court close to my house so have been able to go for a hit every so often. I have also enjoyed getting out of the house to go for walks and runs.
I do miss catching up with my friends and workmates and am looking forward to beating Brant at table tennis now that I'm back at work, although I'm not looking forward to taking off my pj's!
I have been able to stay on top of my studies which has been a bonus of all this time inside, and have otherwise been filling my days in with boardgames and puzzles.