On 10th October 2016, I lost one of my best mates Tessa Calder to brain cancer. Tessa was a very special person, and the last time I wrote about this event I got to let you in on just how special she was in my "Why I started an Albury RunWalk4BrainCancer" blog. Today though I want to share an analogy with you that helped me understand grief better.
I know it is not comfortable to talk about, so often we don't. We should. When you first lose someone dear to your heart, there is a giant ball in a box with a pain button. The ball is so big that it is hitting the pain button all the time. As time goes on, the ball gets smaller and smaller but when it hits that button it still hurts like it first did. You don't always know when or why it is going to hit the button, but it is totally understandable that it still does.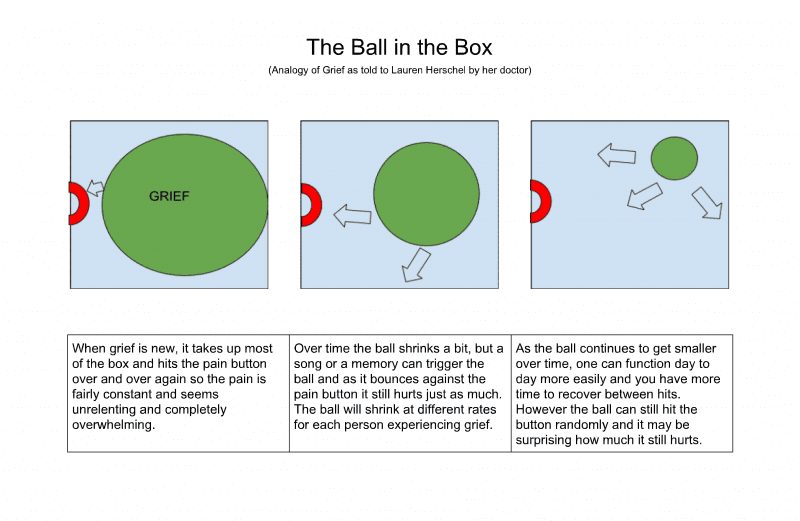 This year exactly 5 years on from the day I lost Tessa, I will be hosting Albury's 2021 RunWalk4BrainCancer to raise money for Cure Brain Cancer. I can already tell you the day will be filled with bittersweet emotions. The ball will probably hit the button many times over, but for me the button that the ball hits is no longer just pain. On this day in particular it will be an array of emotions:
Gratitude for having Tessa's friendship in my life
Hope for all the brain cancer survivors
Happiness that all of these beautiful people want to support Cure Brain Cancer as much as I do
I will absolutely cry both happy and sad tears on multiple occasions. Just seeing my colleagues in our special purple shirts is enough to bring a tear to my eye. In 2019, we had 300 people attend our very first event, and I remember crying in the Aldi car park later in the afternoon when I received a text from a then complete stranger about their mum Suzie:
"Prior to being slapped across the face with this diagnosis, we had put everything in place to arrange a surprise 70th birthday for mum which she would have been celebrating in two weeks time. Since the diagnosis she has not felt like socialising much and so we cancelled the party. Today's walk provided the perfect way to gather all her friends and family together with a sense of purpose and the lunch that we had to follow worked as the perfect supplement for a 70th party. Today was the happiest I have seen mum since this all started for her and so I wanted to say thank you for not only the fundraising (which is amazing) but also for the beautiful way in which this walk brought so many people together."
It fills my heart with joy that Suzie got to enjoy a day in the sunshine with all her loved ones walking with her, and walking for her. Suzie passed away in 2020.
There are many more Tessa's and many more Suzie's out there. I hope that each year I get to meet or hear about more of these beautiful people who deserve a day to either walk themselves or be remembered. These stories motivate me to keep going with organising the event each year. It has not been the easiest year to plan an event but unfortunately brain cancer does not stop for a pandemic. So, neither will we.
Normally we would head out somewhere for a 5km loop but this year to maximise numbers allowed to gather we will be walking laps of Lavington Sports Ground for an hour on Sunday 10th October!
Event Details
Sunday 10th October
Lavington Sports Ground
9am start
Register here and join our O-health team.
If you are unable to join the walk and would like to make a donation to the O-health team, you can click here.
-Sheila Smith