Wow, Easter already!!
It has been an incredibly  busy start to the year for us at Osteohealth!  With record numbers of satisfied patients, lots of bike fitting and plenty of ongoing public education sessions we have all been run off our feet.  We"d like to thank everybody for supporting us and referring friends and family to Osteohealth.  The rate of referral from our patient base is at an industry-best level and let"s us know how happy you are with our service.  At Osteohealth we have great people doing great work.

We"ve long been supporters of Women"s Cycling through our involvement with the Bicycle Superstore National Road Women"s Team, and further to that we are hosting the inaugural Women"s Ride  on April 12th.  This initiative has been created and sanctioned by Cycling Victoria and in conjunction with Peta Stewart Conveyancing , are running a Women's Only ride.  It is a great partnering of organisations who actively care and support female wellbeing and sporting involvement.  Peta is a great advocate for women"s cycling who works as a commentator at all the major races.
The ride is designed to introduce women to like minded others to make cycling more accessible, more social and more fun!!  Higher levels of activity are incredibly important for health, well being and happiness- if you can do casino online that with others then you are far more likely to keep it going!
This event aims to be fun and inclusive for all levels of fitness as it is a 'no drop ride' (ie. nobody left behind) around the beautiful local surrounds and will be guided by experienced female cyclists. The ride will be 10-25km.
Riders and their family members will return to the clinic for a snag in bread after the ride.  Bike racks, sausages, coffee and bike shop advice will all be available at Osteohealth upon completion of the ride.
There is sure to be a great turnout.  Participants MUST be registered-if you haven't already done so, please follow the link….http://thewomensride.com.au/event/osteohealthpeta-stewart-conveyancying-womens-ride  It will be a lot of fun and a great chance to meet some new riding buddies!  We already have 47 registered cyclists – why don"t you join them?  We would LOVE to see you there!!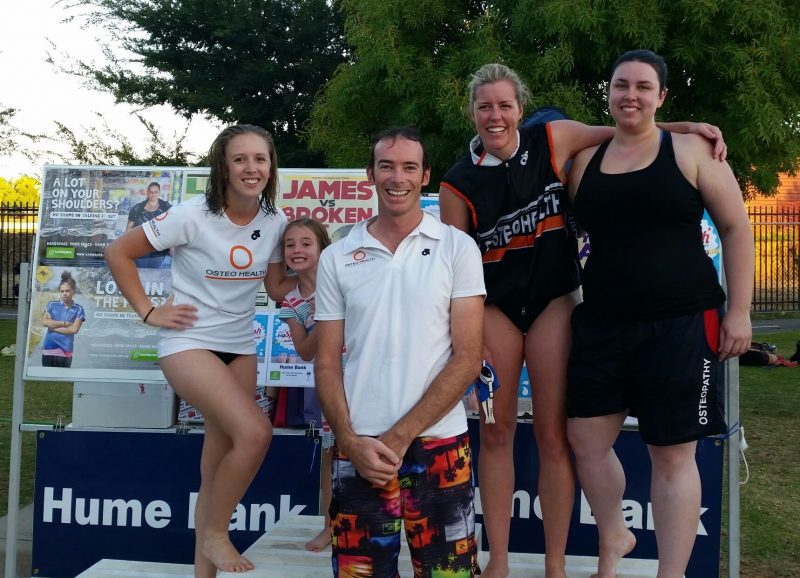 Earlier this month some of the Osteohealth team enjoyed a fun night at 'The Big Splash'.  This is the second year this event has run and from the looks of things it is destined only to get bigger and better!!  Our team consisted of Tom, Amelia, Nic and Kate; while Lisa, Lucy and Clare were great supporters from the side of the pool. Unfortunately we weren"t successful in the Health Division,finishing fourth, but had a lot of fun and laughs!!!! There was a huge turnout and it successfully raised a large amount of money for Headspace and the Survivors of Suicide.
We are very proud of our community involvement at Osteohealth, and recently we"ve been involved in Triathlon camps, charity rides, Mt Beauty Hospital fundraisers, and educational seminars with a number of community groups around the Albury Wodonga area.
Have a happy and safe Easter break!